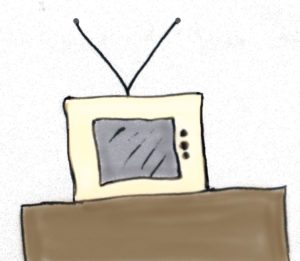 Tonya had posters up all over her bedroom. One wall was completely covered, so that you couldn't see even and inch of the paint underneath. There were a few posters of television stars – Ricky Shroeder, Kirk Cameron. The wall above her bed was reserved only for John.
"You can't have John," Vanessa spat. "Tonya likes John."
I looked over at Vanessa's older sister, Tonya, who squinted her eyes into a glare and nodded.
"And Vanessa likes Simon. So that leaves Nick, Andy or Roger"
It didn't seem fair to me. The three of us had been binge-watching Much Music videos in Tonya and Vanessa's living room for most of the summer. Duran Duran was everyone's favorite group; when Rio came on, Tonya grabbed a wooden spoon from the kitchen and we leaned into it and hollered the chorus, like famous backup singers.
"Her name is Rio and she dances on the saaaaaaaaaaaaaand."
When the A View to a Kill video was released, we danced, spy-like, around the living room to its eerie rhythms. Sometimes we leaped off the arms of the couch.
I'd just declared that I was in love with John Taylor, the bass player. He was the cutest band member by far, and, in my estimation, the most talented, with his buttery bass notes and his long-in-the-front, short-in-the-back British haircut.
The air in the living room had thinned, and Tonya had yanked me by the arm and pulled me into her normally off-limits bedroom.
"See?" she said now, gesturing to the wall above her bed. "That's my John wall."
My heart sank. She clearly had dibs on John.
I knew Vanessa like Simon, the lead singer. Vanessa was well on her way to having an impressive poster collection too. And that was fine with me; Simon looked far too serious and angular with his long nose and combed-back hair.
I mentally scanned the other three band members: Andy, the guitar player was okay, but seemed to lack some essential characteristic I couldn't put my finger on. Roger, the drummer, was not an option. He was the unattractive band member, everyone agreed.
"I'll take Nick," I announced later that afternoon as the camera panned in for a close-up of him on the keyboard. He had hair sort of like John's, and he was cute, even though his eyeliner was a bit overdone.
For the rest of summer, I spent all my allowance money on Bop magazines. I cut out every Duran Duran picture I could find, and I found one with a double page poster of Nick. Taping it up above my bed felt like self-betrayal. But it lasted only a brief moment—flared there in the air for a second or two and then faded—and from then on, I told everyone I loved Nick the best until after a while, even I believed it.~