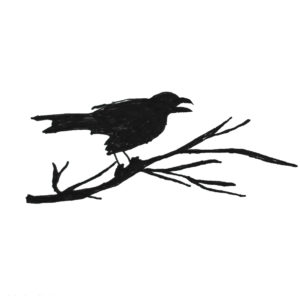 There is a raven shrieking from a nearby tree. It sounds like a furious, old woman who smokes too much. The raven woke me this morning at first light, as it has nearly every morning for the past few weeks.
In the spring, it was the rooster. The neighbor was having trouble getting it back into its pen and so, for several weeks, it wandered freely, appearing just below our bedroom windows at dawn to crow at the morning.
I had always heard the rooster from the neighbors' house; it was a sound I tolerated, if not enjoyed—I'll take farm sounds over sirens any day. But hearing it so close, through an open window, is startling first-thing. My daughters kept getting out of bed at 6:45 am on the weekends, and I would look at them with swollen eyes and insist it was far too early to start the day. I made actual, pre-meditated plans as to how to trap the rooster. It involved a blanket and a Rubbermaid container. I'd heard about an older woman, a long-time homesteader on our island, who kills chickens with her bare hands using a broomstick and a piece of rope. I considered asking her for more information. When I failed to catch the rooster—he was too fast and the blanket too inaccurate—I entertained elaborate fantasies of crushing it—quickly, painlessly—by dropping the bedside table from the upstairs window.
Now the raven.
I imagine it is defending a nest, but must it do so so aggressively? All the other birds in the neighborhood have their act together—successfully guarding their young in a quiet, peaceful manner. Why must this raven create such clamour?
But morning. O, morning I might otherwise miss. The Foxglove is blooming at the edges of the yard, and the Rock Roses on my porch are opening across the wooden porch rail. My white Rosa rugosa, the one I moved into a bigger pot last weekend, is opening and it smells like something from another world. The sky is marbled with blue; at the western edge, rain is moving on long, skinny legs across the horizon. And if I listen past the noise of the shrieking raven, there are other bird sounds, tiny, sweet notes of several different tones and cadences and variations, all layered against each other.
Sometimes my mind is like the raven. Shrieking, incessant, inconsolable. But if I get quiet enough, I find something underneath, something worth tuning into.
What I'm trying to say is: mornings are good to get quiet in. And deep down, I feel somewhat indebted to these birds that keep waking me.