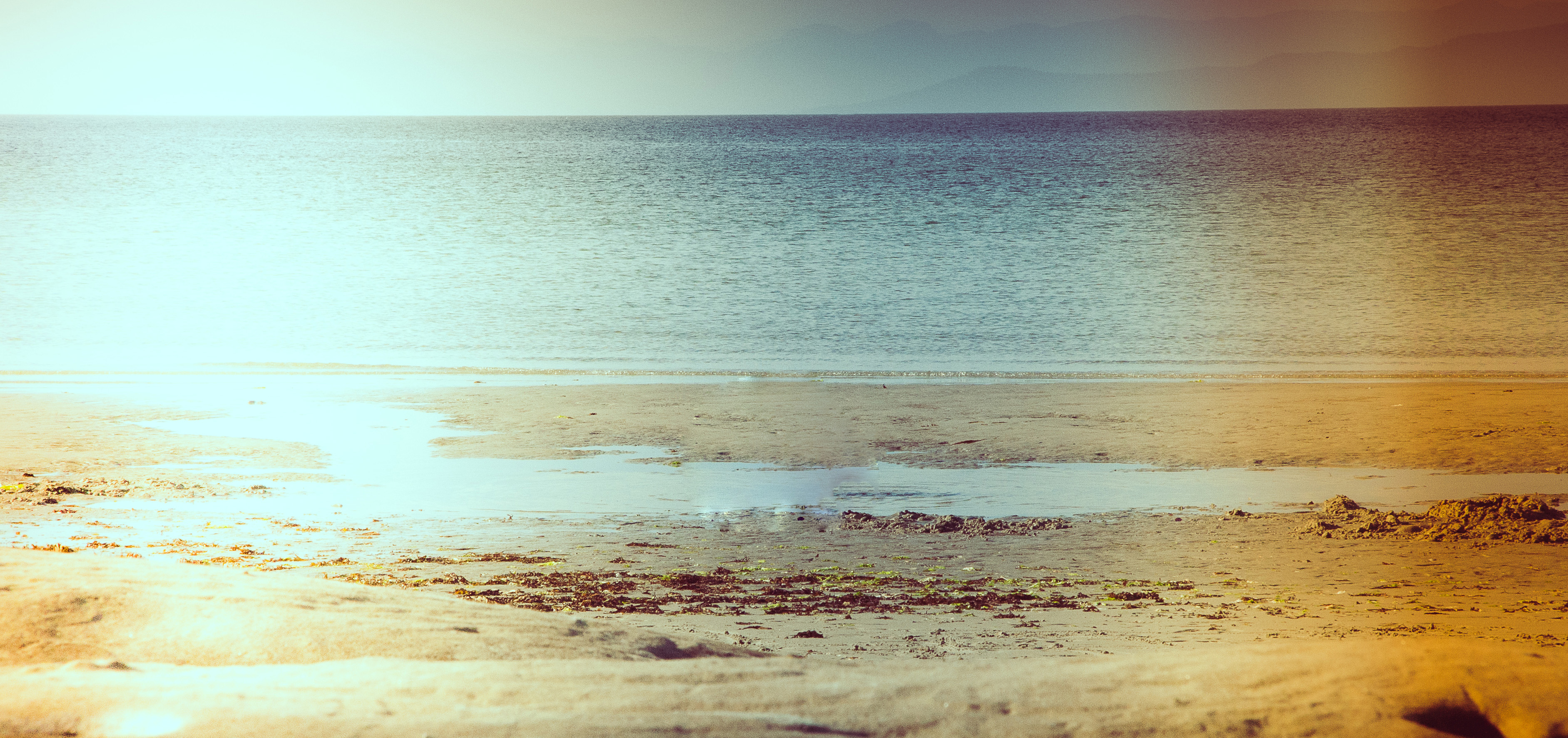 As I write, I am sitting on the beach at the end of my road, leaning up against a log, my notebook on my lap. The tide is low and the sun is glinting off the tide pools. Once in a while, an eagle calls from a treetop. Far out, I see the shining head of a seal; it surfaces, then disappears, then surfaces again.
Sometimes I have to pinch myself: this is my life. I'm here, and it's really my life.
I have always loved the sea. A good deal of my childhood summers were spent at the sea, and my mother taught me the names of things—anemone, urchin, barnacle, olive shell—and I remembered them and walked the beach, whispering the names to myself. A kind of music.
Up where we lived in the interior, the landscape was vastly different: dusty paths worn into dry, open hillsides of waist-high sagebrush, wild mustard, milkweed. I learned these names too, and loved them. But something about the water lapping against the shore, the cool nights and the coastal drizzle made me feel more at home than home did.
What is that feeling? I've been asking myself this for a while. Old houses, too, have done this to me. I grew up in a modern house in a brand-new subdivision. There were smooth sidewalks and those green electrical boxes that kids sat on, trading stickers with the other neighborhood kids. There were tidy cedar hedges and basketball hoops and paved driveways and shiny white rocks in the front flowerbeds.
Sometimes we'd go across town and visit my mother's friend Val, who lived in a heritage house on a quiet street where big trees—Chestnut, Sycamore, Maple—lined the boulevards and old porches creaked in the dappled light, their window screens blowing in and out in the breeze. Inside the house, the hardwood floors shone, and the windows opened on a hinge and the air smelled faintly of garden soil. Visiting there, my heart would leap, as if it recognized something from another lifetime: This, I thought, but could never pinpoint what "this" was. It had to do with love and something suiting my particular type of wiring, and a feeling of belonging paired with curiosity.
Not long ago, I ate dinner with a man who was hosting a show of mine on another gulf island. I was telling him about a city I used to live in, where life felt whole, and a city I lived in after that, where life felt misaligned. We talked about this exact thing—and I wondered out loud how life could feel so intangibly right in one place and not in another. What is that hard-to-pin-down quality, I wondered. That "yes, this," feeling.
"I think the word you're looking for is resonance," he said.
I just spent some days out and about off-island, as we say here, though I was still on an island, only a much bigger one. It takes two ferries to get there from here, three if you want to get onto the main land, if there is such a thing. (Technically, we all live on islands of varying degrees.)
And now that I'm home, I'm newly aware of that "yes, this" feeling upon walking into my big, old rental house that smells of garden soil and wood smoke; the light slanting in the windows across the floors; the tree branches scraping against the side of the house. Last night I watched a big, round moon rise into the sky on the other side of the skylight. I went to bed with the window open a crack and read a book and heard the rain begin. And now, as I write, my back against a beach log worn smooth by waves, I am watching a flock of Cormorants fly in unison above the surface of the water. How do they do that? How do they know to all veer left at exactly the same moment? To curve around a bluff and head straight up into the air at precisely the same distance to one another? It's called synchronicity, and it's a grace I've stumbled onto a few times, but have never lived inside of completely. But deciding to come here—to this life that resonates with me—that was one of them.